Great Taste, the world's most coveted food awards, which celebrates the very best in food and drink, has announced the Great Taste stars of 2018. Out of over 12,600 products to be judged, four Curious Teas were awarded Great Taste awards. Our Red Jade GABA won a 1-star Great Taste award, which means judges dubbed it a food that delivers fantastic flavour. And our Meishan Hong Shui Red Water Oolong, Long Jing Ming Qian Dragon Well and Ashikita Zairai Kamairicha won a 2-star Great Taste award, which means judges dubbed it above and beyond delicious!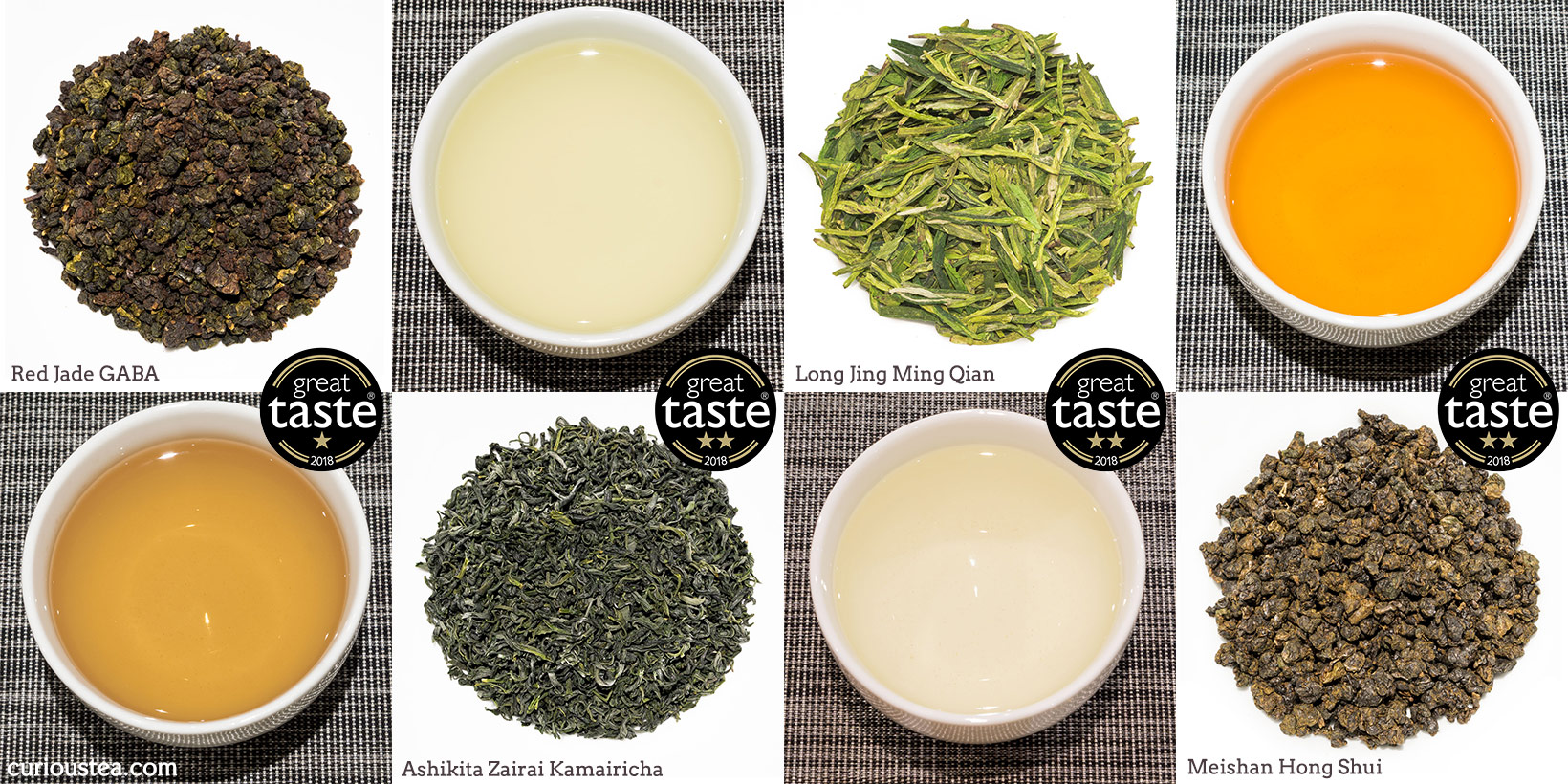 We are delighted and humbled to be be awarded again for our teas again this year. Without further ado, here are our award winning teas from 2018!
Ashikita Zairai Kamairicha is an unusual tea grown from a native cultivar in Ashikita District of Kumamoto Prefecture in Japan. This kamairicha is pan-fried, resulting in a balanced character. It has a savoury profile and a flavour that is grassy and sweet with floral and citrus notes. 2-Star Great Taste Award 2018.
Long Jing Ming Qian Dragon Well from China is an exquisite early spring Long Jing harvested before the Qing Ming Festival. It produces a golden liquor with a faint incense aroma and a smooth vegetal profile. The complex sweet and savoury taste has toasty and nutty notes with a fresh zesty finish. 2-Star Great Taste Award 2018.
Meishan Hong Shui Red Water Oolong is a complex high mountain tea from Taiwan. Tightly rolled dark leaves undergo multiple roasting to produce a complex and fragrant liquor. The taste is smooth and balanced with floral, sweet and toasty notes and a tangy aftertaste. 2-Star Great Taste Award 2018.
Red Jade GABA from Taiwan is a unique take on a GABA-rich tea that is made from an organically grown 'Ruby' or 'Red Jade' cultivar. Tightly rolled leaves make a medium strength liquor that is crisp and smooth, with a lingering flavour of raisins, tart fruits and a hint of mint. 1-Star Great Taste Award 2018.
We travel the world in search of the best and most Curious Teas. This is the third year that we have entered the Great Taste Awards and we are excited that we again picked up awards for our teas third year running! Close working relationships with our suppliers around the world enables us to source some fantastic, unusual and delicious teas. Great Taste Awards provides an important recognition for the teas that we source as well as recognition for the farmers and producers that we work with.
These four Great Taste Award winning teas are joining our other awarded teas:
We are excited to be able to share all of these award-winning teas with you. We hope you enjoy your tea adventures!
What are Great Taste Awards?
Judged by over 500 of the most demanding palates, belonging to food critics, chefs, cooks, restaurateurs and producers, as well as a whole host of food writers and journalists, Great Taste is widely acknowledged as the most respected food accreditation scheme for artisan and speciality food producers. As well as a badge of honour, the unmistakeable black and gold Great Taste label is a signpost to a wonderful tasting product, which has been discovered through hours and hours of blind-tasting by hundreds of judges.
Recognised as a stamp of excellence among consumers and retailers alike, Great Taste values taste above all else, with no regard for branding and packaging. Whether it is vinegar, granola, bacon or cheese being judged, all products are removed from their wrapper, jar, box or bottle before being tasted. The judges then savour, confer and re-taste to decide which products are worthy of a 1-, 2- or 3-star award. /p>
There were 12,634 entries into Great Taste this year and of those products, 192 have been awarded a 3-star, 1,207 received a 2-star and 3,254 were awarded a 1-star accolade. The panel of judges this year included; MasterChef 2018 champion, Kenny Tutt, chef and food writer, Elly Curshen, eco chef and food writer, Tom Hunt, author and chef, Zoe Adjonyoh, baker Tom Herbert, author and blogger, Izy Hossack, and baker and recipe writer, Martha Collison, as well as food buyers from Harrods, Selfridges and Sourced Market.
For more information about Curious Tea and our award-winning teas, please contact Alex at alex@curioustea.com.