Great Taste, the world's most coveted blind-tasted food awards, which celebrates the very best in food and drink, has announced the Great Taste stars of 2016. Out of 10,000 products to be judged, two Taiwanese Oolongs that we submitted this year both won awards. Curious Tea was awarded a 1-star Great Taste award for our Deep Baked GABA Oolong and a 2-star Great Taste award for our Organic Milk Oolong.
The judges thought that our Deep Baked GABA Oolong was 'nicely roasted with nuttiness and crisp, roasty notes', while also being 'rich yet clean and light with some sweetness behind the roasted character'. And they particularly liked our Organic Milk Oolong, remarking that it has 'a good colour to the infusion, which has good brassica notes but is also reminiscent of coconut water and full cream milk – yet is clean and delicate in character'.
This is the first time we have entered the Great Taste Awards and could not be more excited with the outcome! We have a close working relationship with the Tea Master responsible for these teas in Taiwan and we know that she will be thrilled with these awards. Taiwan truly produces some of the world's finest oolongs and we are pleased to offer a wide range of Taiwanese teas in our online shop.
What are Great Taste Awards?
Judged by over 500 of the most demanding palates, belonging to food critics, chefs, cooks, restaurateurs and producers as well as a whole host of food writers and journalists, Great Taste is widely acknowledged as the most respected food accreditation scheme for artisan and speciality food producers. As well as a badge of honour, the unmistakeable black and gold Great Taste label is a signpost to a wonderful tasting product, which has been discovered through hours and hours of blind-tasting by hundreds of judges.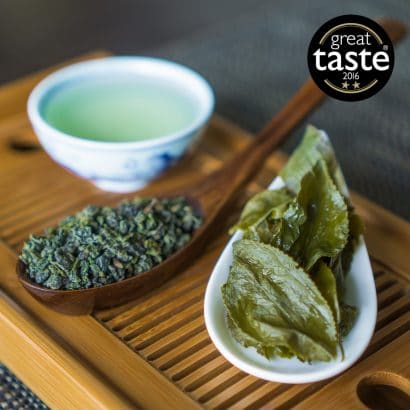 Recognised as a stamp of excellence among consumers and retailers alike, Great Taste values taste above all else, with no regard for branding and packaging. Whether it is bread, honey, salami or cereal being judged, all products are removed from their wrapper, jar, box or bottle before being tasted. The judges then savour, confer and re-taste to decide which products are worthy of a 1-, 2- or 3-star award.
There were 10,000 Great Taste entries this year and of those products, 141 have been awarded a 3-star, 878 received a 2-star and 2,520 were awarded a 1-star accolade. The panel of judges included; TV chef and author, Valentine Warner, MasterChef judge and restaurant critic, Charles Campion, fifth generation baker, Tom Herbert from Hobbs House Bakery, and Great British Bake Off winner, Frances Quinn; food buyers from Harrods, Selfridges, Fortnum & Mason, Harvey Nichols and Waitrose and chefs including, James Golding, chef director of THE PIG Hotels, and Kevin Gratton, chef director of HIX Restaurants. These esteemed palates have together tasted and re-judged the 3-star winners to finally agree on the 2016 Top 50 Foods, the Golden Fork Trophy winners and the 2016 Supreme Champion.
You can buy our 1-Star Great Taste Award winning Deep Baked GABA Oolong and our 2-Star Great Taste Award winning Organic Milk Oolong in our online shop.