Welcome to the August 2022 edition of the Curious Tea subscription! Here's a closer look at the four exciting new teas that we are sharing with our subscribers this month.
The first light tea this month is a Pine Needle green tea from Anhua County of Hunan Province of China that delivers a fresh, verdant and vegetal flavour.
The second light tea is a classic Yabukita Sencha from the famous Honyama terroir of Shizuoka that has a classic Japanese green tea profile.
For the dark side of the selection we have a Dian Hong, or Yunnan Red, from Lincang in Yunnan Province that is picked from old trees to produce a complex liquor.
Finally, the last tea we are featuring this month is a somewhat unusual choice, a slightly aged Jin Xuan Hong Cha from Taiwan, that has been mellowed for a particularly smooth and creamy flavour.
Our Discovery subscription boxes contain 10g taster pouches of all of the above mentioned teas. If you are a subscriber you will benefit from a 10% discount on all teas from our tea shop!
Let's get into further detail on these teas featured in our August tea subscription boxes.
Song Zhen Anhua Pine Needle
Song Zhen Anhua Pine Needle (安化松针绿茶) is a fine spring green tea from an organic tea garden, located in Anhua County of Hunan Province in China. The leaves are shaped to resemble small pine needles, earning this green tea its name. It produces a bright aromatic liquor with a mellow fresh taste and complex verdant and vegetal umami notes. This particular batch was harvested on 6 April 2022.
While we've had a Yunnan version of Song Zhen in our shop for quite some time, it is the Anhua Song Zhen that is considered to be the most famous type of 'Pine Needle' green tea in China. Being a famous tea from Hunan Province, this tea enjoys a local history spanning some 400 years. Pine Needle green tea from Anhua is characterised by a smaller and finer leaf due to earlier picking and use of smaller leaf local cultivar plants. This particular tea is grown at an altitude of around 1,100m at a garden that is managed to organic standards.
Anhua Song Zhen has a very fine leaf, mostly consisting of one bud and two leaves standard of picking. The leaves are smaller and younger, leading to a mellow liquor. During the final stage of processing Anhua Song Zhen is shaped into a long straight shape that resembles pine needles. It produces an aromatic liquor with a savoury green tea aroma, green-yellow colour and good clarity. The mouthwatering taste is fresh, verdant and vegetal with a pronounced savoury umami edge. It has notes of asparagus and a sweet mouthfeel. The aftertaste is mellow and lasting with a touch of herbaceous astringency. It's a nicely balanced tea and the savoury edge makes us think of more Japanese-style green teas, like our Kamairicha.
We suggest brewing at 80°C for 2-3 minutes according to your taste. It can be brewed around 2-3 times depending on your preference.
You can also buy Song Zhen Anhua Pine Needle green tea in our online shop.
Honyama Yabukita Sencha
Honyama Yabukita Sencha (本山やぶきた煎茶) is a high grade sencha green tea made from the popular Yabukita (やぶきた) cultivar. It is grown in the historic Honyama (本山) terroir that is located in the upper reaches of Warashina and Abe Rivers in Shizuoka at an altitude of 200-300 metres. This tea is crafted to create a classic Japanese tea profile with a complex interplay between grassy and vegetal sweetness and salty and savoury umami notes. It was harvested between 4 and 13 May 2022 and it is sourced by us via a specialist tea merchant in Tokyo.
This is one the three sencha teas in our shop that showcase the three famous mountainous terroirs of Shizuoka Prefecture: Honyama, Kawane and Tenryu.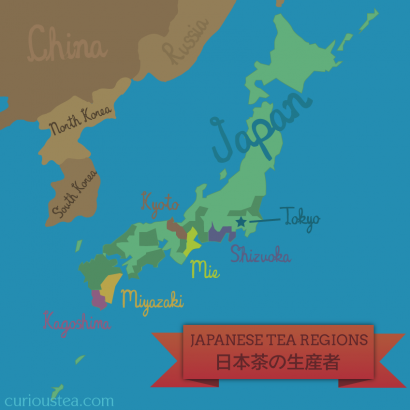 Honyama is a terroir famous in Japan for producing particularly fine teas that has a tea growing history of over 800 years. The fields are located on steep slopes surrounding the Warashina and Abe Rivers that often produce foggy conditions. This fog and less exposure to the sun acts as a natural way to slow down the growth of the tea plants, resulting in richer and more fully flavoured teas. Additionally, the earlier pickings such as this First Flush picked in early May are more prized. The reason is that with the cooler spring climate the growth of leaves is slower, again allowing for more complex flavours to develop. Once the first picking has been done in the season and the weather is warming up, the plants grow much faster, resulting in less concentration of nutrients in the leaves and thus a weaker tea.
This Honyama Yabukita Sencha is made from the leaves of Yabukita cultivar plants. This cultivar is the most popular and widespread tea plant in Japan and Yabukita plants cover about 75% of Japanese tea fields. It was developed by a tea breeder from Shizuoka in the early 1900's called Hikosaburo Sugiyama, but it was officially registered only in 1956. The well-performing Yabukita plants quickly proved popular due to their hardiness, ease of cultivation and tea flavours; with time becoming the mainstay of Japanese green tea production. One of the main factors for the popularity of the Yabukita cultivar has been the flavours that they are known for. These plants produce teas with typical savoury and umami grassy flavours and strong aromas that are particularly sought after in Japanese green teas.
This Honyama Yabukita Sencha has neat, long and thin dark green leaves that are neatly rolled. The green liquor has good clarity and a fragrant savoury aroma. The taste is savoury, with a vegetal profile and smooth grassy umami notes. The taste continues with a creamy mouthfeel and further notes of nori, spinach and sea water. The aftertaste is clean, not astringent, with zesty yuzu notes. This Honyama Sencha has all the classic Japanese green tea aspects with a complex yet refreshing taste.
We suggest brewing at 70°C for 2 minutes according to your taste. It can be brewed around 3+ times depending on your taste preferences. This tea will perform at its best if brewed using a good traditional side-handled kyūsu (急須) tea pot specifically designed for brewing sencha tea. In such case, adjust the amount of leaves to 2.5g per 100ml of 70°C water, brewing 40-60 seconds per infusion, repeatedly increasing brewing time until there is no flavour left.
You can also buy Honyama Yabukita Sencha green tea in our online shop.
Dian Hong Ming Feng Shan Gu Shu
Dian Hong Ming Feng Shan Gu Shu (滇红鸣凤山古树) is an early spring Yunnan Red tea from Mingfengshan in Lincang, Yunnan Province, China. This particular version is picked from wild growing tea trees that are over 100 years old. Made from large leaves of the local Da Ye assamica plants, it produces a complex mineral liquor with a lightly tannic finish. This current batch is from the 5 April 2022 harvest.
This type of tea is called Gu Shu (古树) in Chinese, meaning 'old' or 'ancient' tree. The age of trees, especially in Yunnan Province, is a somewhat controversial topic since claims are often made of teas being picked from 500 or even 1,000 year old trees. Needless to say, it is difficult to establish the age of the tea tree without cutting it down and the amount of truly ancient trees is not significant enough to produce very large quantities of finished tea. So it is best to approach such extravagant claims with some scepticism.
Generally we would consider trees over 100 years old to start falling into the Gu Shu classification but of course there are no written rules. Everyone has their own interpretation at which age a tree can be classified as Gu Shu, with most common ages given being 100+, 200+ or 300+. The trees that this Dian Hong Ming Feng Shan Gu Shu is picked from are estimated to be 100-300 years old. Without knowing the ages of each individual trees, we feel that it is more appropriate to say that this tea comes from trees that are 100+ years old, even though some individual trees may be quite a bit older..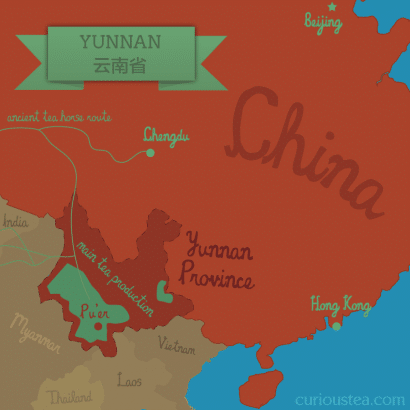 It is generally thought that tea trees enter 'old' age at around 100 years. The age of the tree has a direct effect on the flavour. The leaves from these older trees produce a complex mineral liquor with a lightly tannic finish. The nature of the trees means that this is a bold tea with a deep flavour, stronger than Dian Hong teas made from younger trees and smaller, younger leaves. The trees are also growing wild, without human interference, so typically having a much slower rate of growth. This means that the trees are able to develop a more extensive root system, allowing them to absorb more nutrients, leading to a finished tea having a special 'ancient tree' charm.
This Gu Shi Dian Hong has a mixed dark leaf with plenty of golden colour. It produces a dark liquor with a malty aroma and a complex but smooth taste. Unlike some other Dian Hong teas, this one is not particularly sweet, having a bolder and deeper flavour. It features a pronounced malty, mineral and stony flavour with some cocoa notes. The aftertaste is tangy and savoury with some pleasant tannins present.
If you are finding the flavours a little too bold, it is possible to adjust the brewing parameters to make for a lighter cup. But, like with other complex Dian Hong teas, this one can be aged or at least rested further. Reseting for a minimum of 6-9 months will further mellow out the flavours.
We suggest brewing at 90°C for 3 minutes according to your taste, brewing multiple times.
You can also buy Dian Hong Ming Feng Shan Gu Shu black tea in our online shop.
Aged Jin Xuan Hong Cha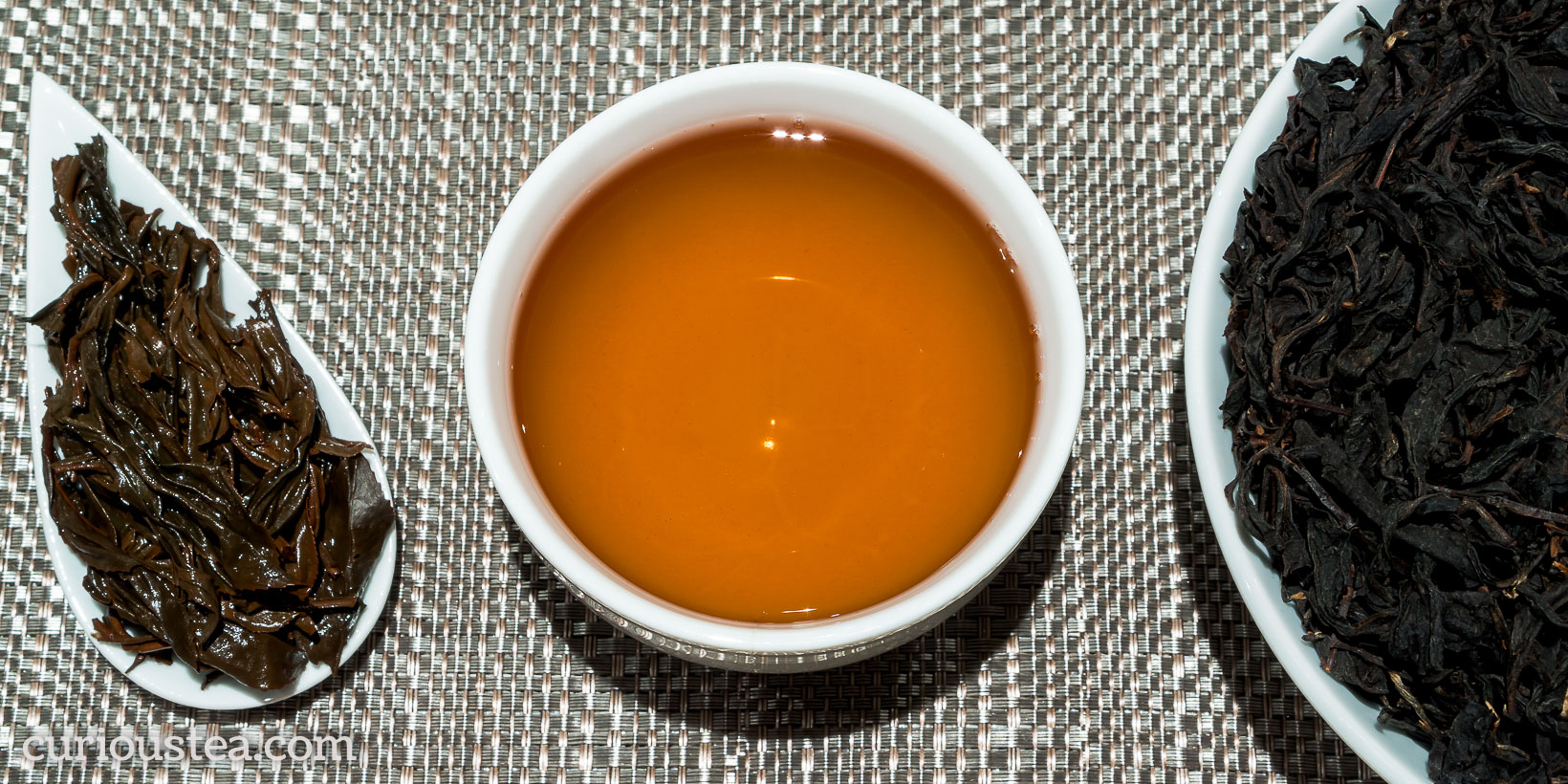 Aged Jin Xuan Hong Cha (金萱老紅茶) is a slightly unusual black tea from Taiwan. First, this black tea is crafted from the Jin Xuan (金萱) cultivar plants that are normally used in the making of the very popular Milk Oolong. Secondly, this tea has been aged for 2 years, something that is not that commonly done with black tea. This batch was handpicked in Mingjian Township of Nantou County in June 2020 at an organic tea garden. After careful processing, it was stored in airtight containers until July 2022. It produces a smooth and delicate flavour with refined creamy notes and a lightly savoury aftertaste.
It is generally accepted that when it comes to ageing tea, two main tea types are traditionally most suited: pu-erh (and other dark tea) and oolong. While for pu-erh and dark tea, ageing is pretty much their raison d'être, aged oolong is a much more niche field. Certain types of oolong are definitely better suited to ageing and unlike pu-erh, these will often require additional re-roasting as the ageing process progresses. Some amazing aged oolong teas can be found both in mainland China (mostly Wuyi Shan) as well as in Taiwan and we have a small selection of Aged Oolong in our shop. Additionally, a complete newcomer to the aged tea party is Aged White Tea. It has gained widespread popularity in China only in the last 20 or so years.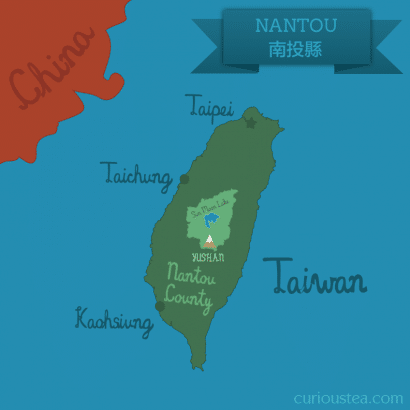 While black tea can take some ageing, generally the loss of aroma starts to first become evident, especially after about 2 years. Of course the development of each tea will be different so it's best to keep sampling the tea that is being aged. If experimenting at home and you are starting to feel the aroma fading but the tea not gaining smoothness or alternatively complexity, it is probably best to drink it sooner rather than later.
The main reason for choosing to slightly age this Jin Xuan Hong Cha is the very strong initial flavour that the tea possessed. Due to unusual weather patterns that summer, this tea ended up with a very bold flavour and a little bit of harshness, which was surprising considering the cultivar chosen to make it. Of course when Jin Xuan plant leaves are processed as a black tea, they do not necessarily carry the creaminess that is found in a lightly oxidised oolong. Still there was an expectation of some smoothness of flavour that was found to have been lacking when we tasted the fresh batch. Hence we made a decision to put it aside for 1-2 years to see how it progressed, much like a similar mellowing practice with Dian Hong teas.
We tasted this Jin Xuan Hong Cha most recently in May 2022 and thought that it had certainly changed flavour and in our opinion improved to become smoother, more delicate and balanced. When we first tasted the initial fresh batch, it was somehow closer to a bold Assamica. But now with the passing of time, it is a little less aromatic, but the flavours have nicely matured. The boldness and slight harshness has been replaced with smooth and more nuanced flavours. This Jin Xuan Hong Cha is almost more like a heavily oxidised oolong in flavour now, with a creamy, golden taste. There are malty, fruity, creamy and sweet notes that are light but present. The characteristic Taiwanese savouriness still features, but is muted and is mostly evident on the finish. It has a mouthwatering aftertaste with no astringency or tannins. We think this tea has developed nicely in 2 years. Adding more years to it would be an interesting experiment but we feel that some of the more delicate notes might start fading after a while.
It is best brewed at 90°C for 3 minutes according to your taste and should be brewed multiple times, increasing steeping time with each brew if desired. For best results we definitely recommend brewing gongfu style.
You can also buy Aged Jin Xuan Hong Cha black tea in our online shop.
We really do hope that you enjoy this tea selection for August and are looking forward to the selection in our next box. Our September box will feature a classic Chinese Long Jing Dragon Well green and a traditional Japanese deep steamed Fukamushi Sencha from Ariake. For the darker side of the selection we chose a superb Tippy Assam black tea from Latumoni and an unusual GABA Oolong made from the Qing Xin Gan Zi cultivar plants from Taiwan.
If reading this has made you curious about our teas, but you don't yet subscribe to a monthly tea selection, you can sign up for our tea boxes in just a few clicks. We ship worldwide from London, UK.
We always love to hear from you, so if you have any questions, suggestions or just want to chat about tea, email us at contact@curioustea.com, via our Facebook page or via Twitter.
You can also follow us on Instagram for pretty tea photos.
Happy tea discoveries!