Welcome to the August 2018 edition of the Curious Tea subscription! Let's look at the four exciting new teas we're sharing with our subscribers this month.
The first light tea this month is Meng Ding Mao Feng from Ming Shan in Sichuan Province, a refreshing and bright green tea that is made entirely from buds and small leaves. The second light tea is an expertly roasted oolong tea from Taiwan, Organic Baked Milk Oolong, that has a complex and moreish profile. For the dark side of the selection we have an excellent First Flush Darjeeling 2018 from Poobong Tea Estate that has a typical muscatel first flush character. And we are also featuring a GABA Milk Oolong from Taiwan, which is a rare tea with a unique flavour that results from specialist processing in an oxygen deprived environment.
Our Discovery subscription boxes contain 10g taster pouches of all of the above mentioned teas. If you are a subscriber you will benefit from a 10% discount on all teas from our tea shop!
Let's get into further detail on the products featured in our August tea subscription boxes.
Meng Ding Mao Feng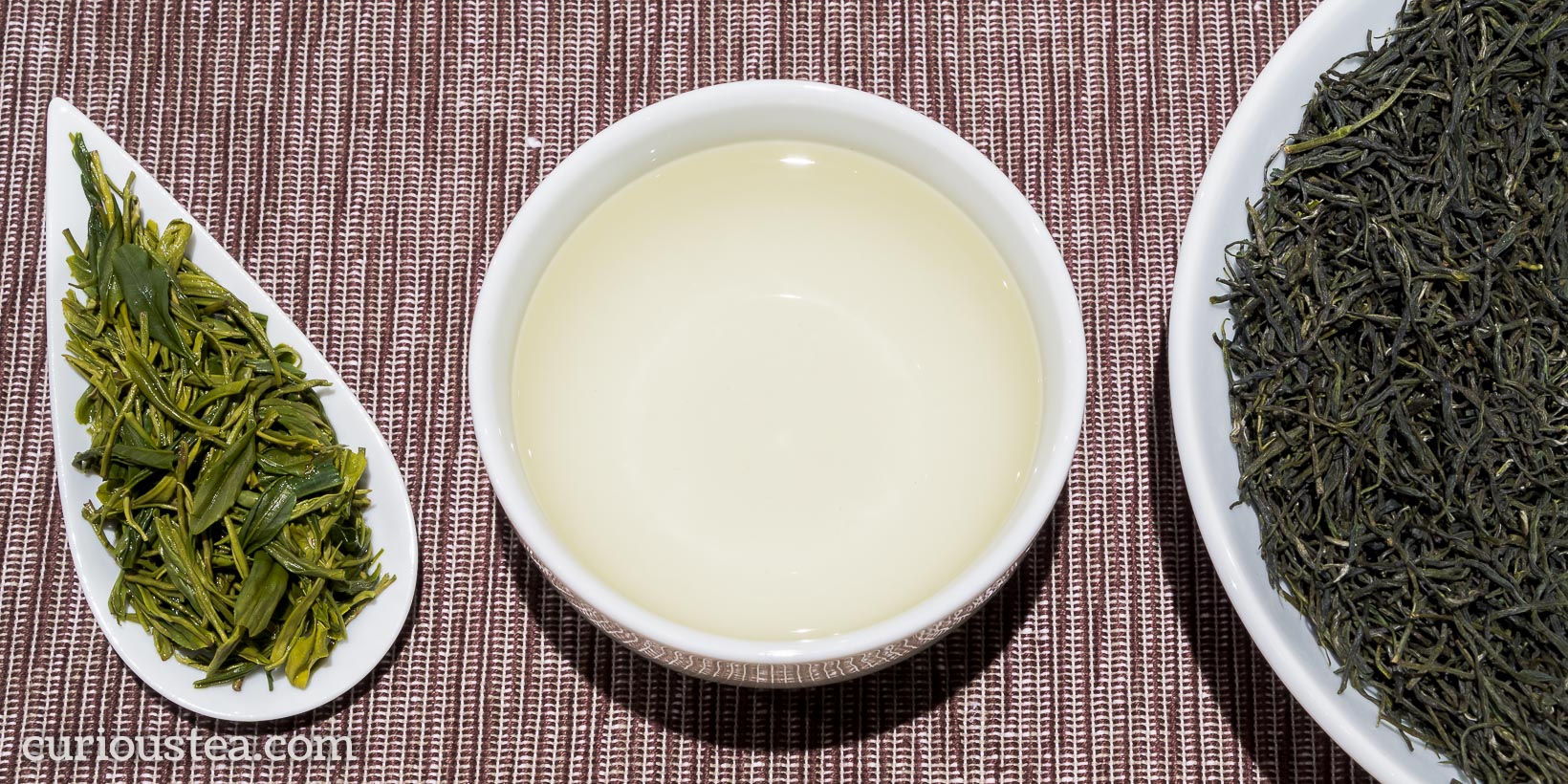 Meng Ding Mao Feng (蒙顶毛峰) is a refreshing green tea from the Sichuan Province of China. It is made entirely from buds and small leaves, producing a delicate yet complex liquor. Meng Ding Mao Feng green tea was picked in the middle of March 2018 around Meng Ding Mountain in Ming Shan District of Sichuan Province.
Meng Ding Mountain is a famous tea growing area with a history of cultivation that stretches over 1,000 years. Around 1,200 years ago, Meng Ding Mountain became one of the areas to be designated for production of tribute tea to the Chinese Imperial Palace. Teas here are generally picked earlier than in many other places in China, with the picking of this Meng Ding Mao Feng occurring in the middle of March, and other teas in the area being picked as early as late February.
Unlike most other Chinese green teas, Meng Ding Mao Feng is not pan fried but instead undergoes steaming. This results in a profile that is closer to Japanese green teas, which are commonly steamed. Steaming imparts a fresher, greener and grassier flavour profile, which is somewhere between a Chinese and a Japanese green tea in flavour and quite close to some of our Korean green teas. Perhaps this is one of the least typical and most uniquely flavoured Chinese green teas that we are offer.
The long small wiry leaves of this Meng Ding Mao Feng are very tightly rolled. When brewed they unfurl and you are able to see the small buds and leaves that make up this tea. The produced liquor has a bright hue that is lightly green in colour and has a fresh grassy aroma. It has a creamy and herbaceous profile with green floral notes and there is a slight, barely noticeable astringency on the aftertaste. Overall a refreshing and bright tea that has a lightly grassy and herbaceous flavour. Excellent for mind clarity and concentration.
We suggest brewing parameters of 80°C for 2-3 minutes according to your taste. If you are finding the tea a little too astringent for your taste, you can decrease the water temperature to 70-75°C.
You can also buy Meng Ding Mao Feng green tea in our online shop.
Organic Baked Milk Oolong
Organic Baked Milk Oolong (中焙金萱烏龍茶) is a wonderfully complex oolong created from the leaves of the Jin Xuan cultivar. This type of oolong tea is particularly popular for its smooth creamy and milky aroma, texture and taste. Our Baked Milk Oolong has undergone a low to medium roasting process to produce a cup that has all the trademark qualities of a good Milk Oolong while bringing out the more complex floral, nutty and roasted notes. This tea is from a fully organic production located in Mingjian Township, Nantou County, Taiwan. It was harvested in April 2018 and baked in June 2018.
This Organic Baked Milk Oolong is from the same crops as our Award-Winning Organic Milk Oolong. Compared to the standard version that undergoes a very light 'fixing' bake, this Organic Baked Milk Oolong undergoes low to medium levels of baking. It is a lengthy process that requires great skill from the tea master in order to bring out the best in each tea. Normally, the tea would be baked once, then left to rest, then tested and baked again. This is repeated until the tea acquires the correct characteristics that the tea master is looking for. This tea is a fine example of a careful and considered baking process. The roasted notes do not dominate, but rather compliment and enhance the taste of the original tea, achieving a fine balance and complexity of flavours.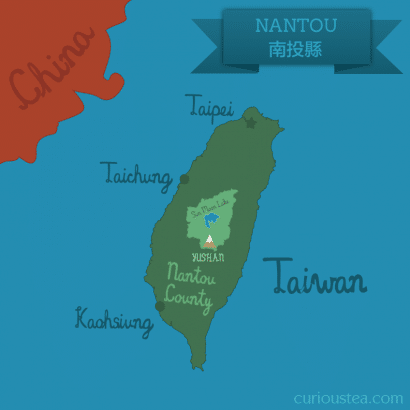 The Jin Xuan cultivar that is used to create this Organic Baked Milk Oolong was developed in Taiwan in the 1980's. It is also known as the Golden Daylily (Jin Xuan) or TRES #12, the number given to it by the Taiwan Research and Extension Station. Milk Oolong is also sometimes known as Nai Xiang (奶香) 'Milk Fragrance' in Chinese. Jin Xuan cultivar is very popular with farmers since the plants are more hardy and produce a higher yield. From a tea lover's point of view, Jin Xuan is an attractive aromatic drink with a lovely sweet and creamy character.
This Organic Baked Milk Oolong is not flavoured in any way and the taste is achieved from the combination of the cultivar used as well as the processing techniques. There are many flavoured milk oolong teas on the market, often utilising tea leaves of inferior quality and artificial flavourings. All our Milk Oolongs at Curious Tea are not flavoured in any way. Instead they come from the correct Jin Xuan varietals and wonderful terroirs, while the flavours are perfected by the skills of the tea growers and tea masters handling the tea.
Our Organic Baked Milk Oolong is sourced directly from the tea master in Taiwan that carries out the baking. Tightly rolled leaves produce a golden liquor with a nutty and creamy aroma. The flavoursome character is comforting and moorish. This tea has the creamy profile, texture and taste that makes Milk Oolongs so popular. However the baking process really brings out the more complex floral, nutty and roasted notes that are not present or not as evident in the unbaked version of this tea. The sweet flavour has smooth, creamy and buttery notes of wild flowers, while the aftertaste is brisk and refreshing.
This Organic Baked Milk Oolong tea is best brewed at 90°C for 3-4 minutes according to your taste and can be brewed multiple times, increasing steeping time with each next brew if desired.
You can also buy Organic Baked Milk Oolong tea in our online shop.
Darjeeling Poobong First Flush 2018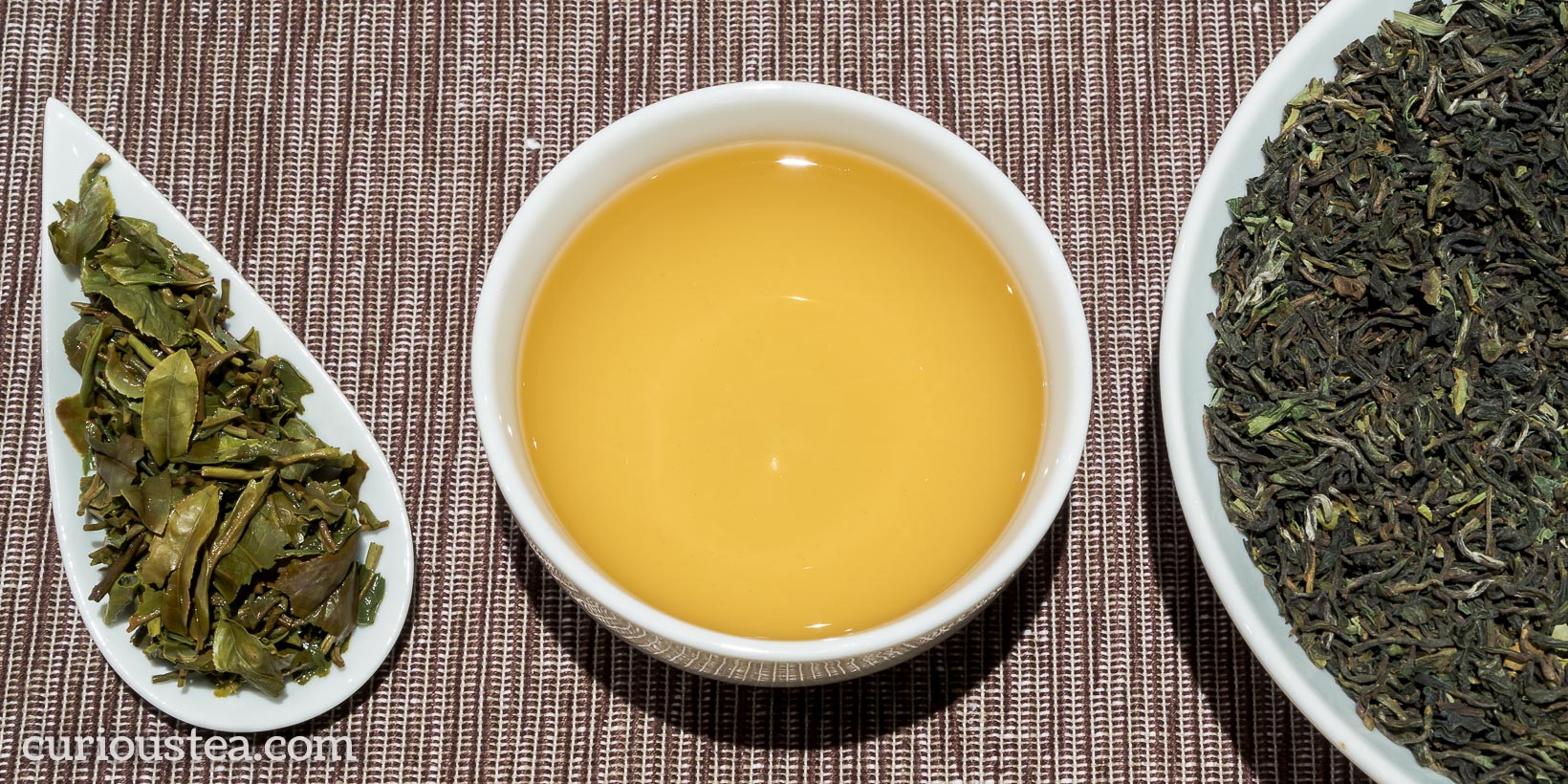 We are continuing the exploration of some of the famous Darjeeling tea estates this month. Last month we featured a Darjeeling from a well-known and well-regarded estate, Darjeeling Phoobsering First Flush 2018 located to the north of the town of Darjeeling. This month, we are offering another First Flush Darjeeling that comes from Poobong Tea Estate next to the town of Ghoom, just south-west of Darjeeling Town.
This Darjeeling Poobong First Flush 2018 is a lovely black tea that has a typical first flush character. It offers a light, balanced taste with brisk muscatel notes. It was grown on Poobong Tea Estate, both picked and processed in early spring 2018.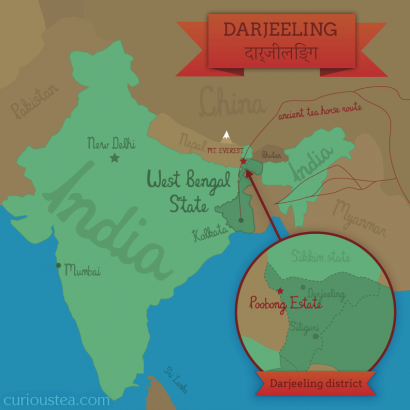 Poobong Tea Estate is located next to Ghoom Town, a location famous for having India's highest railway station. It is one of the smallest estates in Darjeeling. The name Poobong means 'a valley behind the clouds' as this area of Darjeeling hills is very often shrouded in fog.
The leaves of this Darjeeling Poobong First Flush 2018 are rather neat and tippy in appearance, having mixed green colours. The liquor produced is an attractive golden colour with a slight floral and muscatel aroma. This Darjeeling has a robust muscatel first flush profile. The light taste is stony and mineral in character, having brisk citrus notes of lemon peel. The crisp aftertaste is very pleasant and long. Overall this Darjeeling is slightly on the lighter side, yet still displaying a brilliant first flush character.
Darjeeling Poobong First Flush 2018 black tea is best brewed at 90°C for 3-4 minutes according to your taste. It can also stand at least one more infusion. Best taken without milk to fully enjoy the first flush character and complexity of flavours of this fine tea.
You can also buy Darjeeling Poobong First Flush 2018 black tea in our online shop.
GABA Milk Oolong
GABA Milk Oolong (佳葉龍金萱烏龍茶) is grown in Mingjian Township in Nantou County of Taiwan and has quite a unique flavour with pronounced cinnamon and gingerbread notes. It was picked in May 2018 from trees of a Jin Xuan (TRES #12) cultivar and processed in the style of a GABA Oolong in an oxygen deprived environment.
The GABA acronym in the name of this tea stands for Gamma-Aminobutyric Acid. This molecule, which in mammals is mostly found in the nervous system, purportedly can reduce stress and anxiety. This GABA Milk Oolong undergoes a complicated manufacturing process, which involves vacuum tanks and oxidation by way of exposure to nitrogen rather than oxygen. The very high GABA content is the direct result of this processing, which was developed by Japanese scientists over 20 years ago.
There are differing opinions on how well our bodies can actually absorb GABA from our food and drink and while some people report feeling particularly relaxed and calm after drinking GABA tea, others do not see any significant difference. So while the effects of this tea are a very personal experience, most will appreciate this tea for the unusual and distinctive taste.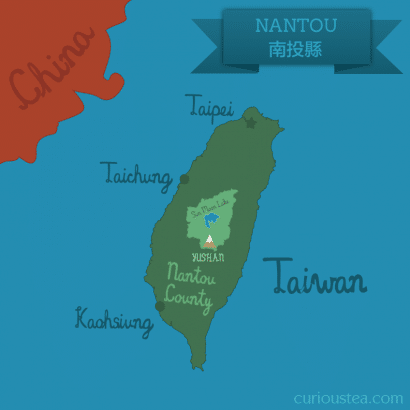 This GABA Milk Oolong is produced from leaves of the Jin Xuan 'Golden Daylily' (金萱) TRES #12 varietal that is normally reserved for tea such our Organic Milk Oolong. In this case this oolong has been processed as a GABA tea, resulting in a rather unique flavour. It is similar to our standard GABA Oolong in that it has the characteristic tart and dry fruit flavours. However, unlike our popular Deep Baked GABA Oolong that is also made from the Jin Xuan cultivar, it does not undergo any baking or roasting. This tea has a unique flavour that is very much dependant on the yearly weather patters. If you had a chance to try our one-off Mi Xian Honey GABA Oolong that we sourced last year, you will see some flavour resemblance between the two teas. As the weather patterns were not as strange as they were last year the crops from 2018 do not have the pronounced honey flavours. Instead this tea has a heavier cinnamon profile with a distinct spicy edge.
The leaves of this GABA Milk Oolong are tightly rolled and unfurl when brewed into mostly dark leaves with some green colours still present. Its pale golden liquor is very aromatic, having a wonderful scent of cinnamon and fruits. The taste is supremely smooth with a flavour that would be immediately familiar to any fan of GABA Oolong. This manifests in a profile that is slightly tart, yet fruity sweet, reminiscent of dried fruits like apricots, raisins and cranberries. However, the additional flavours present are really what sets this tea out from the standard GABA Oolong. It features flavours that are also present in the aroma; those of cinnamon and spices. Coupled with nutty and spicy notes, this creates a flavour reminiscent of gingerbread. The aftertaste offered is clean, yet long lasting with notes of cinnamon and tart fruits. It is an excellent and complex tea that can aid with deep relaxation and meditation.
We suggest brewing at 90°C for 3-4 minutes according to your taste. It can be brewed more than 3 times depending on your preference.
You can also buy GABA Milk Oolong tea in our online shop.
We really do hope that you enjoy the tea selection for August and are looking forward to the next instalment in September!
If reading this has made you curious about our teas, but you don't yet subscribe to a monthly tea selection, you can sign up for our tea boxes in just a few clicks. We ship worldwide from London, UK.
We always love to hear from you, so if you have any questions, suggestions or just want to chat about tea, email us at contact@curioustea.com, via our Facebook page or via Twitter.
You can also follow us on Instagram for pretty tea photos.
Happy tea discoveries!