Welcome to Curious Tea's August 2017 subscriptions! As ever we have four new and exciting teas to share with our subscribers this month.
The first light tea for August is Meishan Green Heart Oolong, a wonderfully floral and bright high mountain tea from Taiwan. The second light tea is Song Zhen Green Pine Needle from Yunnan Province. Green teas from Yunnan are not as common as their black and pu-erh counterparts, but this green translates well into a flavoursome and complex drink. For the dark boxes on this occasion, we opted for a very drinkable Four Seasons Black Pearl from Chiayi County in Taiwan that has a light and fruity profile. And finally we have Dian Hong Da Li Cha, a smooth and malty black tea that is made from an unusual varietal local only to Yunnan Province.
Our Discovery subscription boxes contain 10g taster pouches of all of the above mentioned teas. As always, if you are a subscriber you will benefit from a 10% discount on all teas from our tea shop!
To help you along with the tasting, here is some further information on all teas featured in our August tea subscription boxes.
Meishan Green Heart Oolong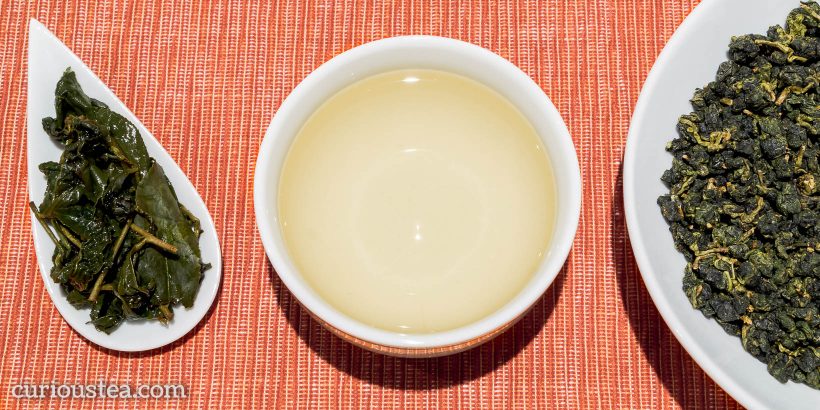 Meishan Green Heart Oolong (梅山青心烏龍) is a high-mountain tea grown in Chiayi County of Taiwan. It is from Meishan Township, located between the famous Shanlinxi and Alishan tea growing areas. Meishan was one of the first areas in Taiwan to grow high altitude teas, even before the famous neighbouring areas. Teas grown around Meishan are very similar in character to those from the more famous Alishan and are sometimes marketed as Alishan grown teas due to the proximity to and fame of the latter. It is produced by the Wang family, who were pioneers in settling this range of mountains, also making them one of the most experienced high-mountain tea makers in Taiwan.
Green Heart or Qing Xin (青心) refers to the varietal used for this oolong. Some say it is the same cultivar as Ruan Zhi (軟枝 'Soft Stem') and was brought from Fujian to Taiwan by the Japanese. Typically it has green, floral notes with subtle hints of mountain flowers, sometimes described as orchid. There is also a characterful sweetness and creaminess, reminiscent of buttered green beans. This tea was picked in April 2017 and follows the trend of very low-oxidised teas from high-mountain areas, as it allows the varietal to keep its green freshness and highlights the floral aspects.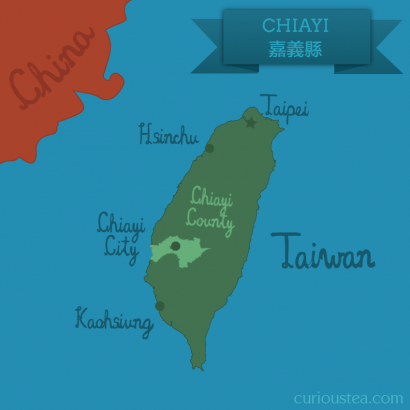 Meishan Green Heart Oolong has large but tightly rolled dark and light leaves common to high mountain Taiwanese oolongs. When brewed it produces a bright, golden yellow coloured liquor with a green tint. Its aroma is a lovely warm floral scent with a buttery undertone. However, its flavour is wonderfully clean and crisp with a sweet, almost milky aftertaste. We can liken it to a Four Seasons oolong but with a creamier edge and a more full-bodied and complex flavour; yet not as milky as Milk Oolong as it is still lighter and floral. All in all very drinkable and comforting. The floral aspects give way to a creamier and nuttier flavour on later brews.
We suggest brewing at 90°C for 3-5 minutes according to your taste. Like all top grade high mountain oolongs, it can sustain multiple brews very well – brew up to 5 times or more depending on steeping time, water temperature and personal taste. You can enjoy substantially more brews and the changing flavours of each brew when using the traditional gong fu brewing method.
You can also buy Meishan Green Heart Oolong tea in our online shop.
Song Zhen Green Pine Needle
Song Zhen Green Pine Needle (松针绿茶) is a complex and robust green tea from Lincang County of Yunnan Province. It is grown in a village within Mengku Township using a local hybrid cultivar, a mix of the local Assamica with Chang Ye Bai Hao (長葉白毫) meaning 'long leaf white tip'. This tea was picked in mid March 2017. It has been fried by hand in a wok, rolled, wilted very, very briefly and then dried by hand in a wok again. At this final stage the tea is pressed flat again to make it straight and pointy. The finished product is a silver and green needled tea that locals call 'Song Zhen' or Pine Needle.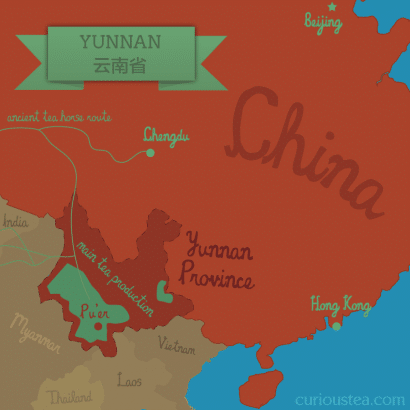 Of course, Yunnan Province is well known for the production of white, pu-erh and black teas. The black tea, Dian Hong (Yunnan Red), we are particularly fond of here at Curious Tea as it generally produces a malty, sweet and smooth cup with no astringency or bitterness. This flavoursome yet easygoing character makes them a very enjoyable drink. The green teas from Yunnan, however, can be a little on the harsh side. Often this is due to the cultivars used, with particular focus on Assamica. These don't translate as well to green tea as the astringency and harshness tend to overpower the liquor, making these teas difficult to brew and not as enjoyable. So we were pleased to have found this Pine Needle green tea that is made from a hybridised varietal. The result is a green tea that does not have much harshness or astringency yet has all the complicated and thick flavours of much stronger Yunnan green teas. If you like a green tea that has lots of flavour and complexity, this one will not disappoint!
The leaves of this Song Zhen Green Pine Needle resemble long dark green and silver needles and have a fresh floral aroma. When brewed the leaves unfurl from the needle shape and produce a light golden liquor with a green tint. The aroma is slightly vegetal with hints of umami and chestnut. The flavour is full bodied, complex and woody for a green tea, with a slightly metallic aftertaste. Overall it's vegetal with creamy and floral notes. A deep and complex flavour, rather than light and refreshing like a lot of other green teas. A very fine Yunnan green tea and a satisfying experience!
We suggest brewing at 80°C for 2-3 minutes according to your taste. It can be brewed around 2-3 times depending on your preference.
You can buy Song Zhen Green Pine Needle green tea in our online shop.
Four Seasons Black Pearl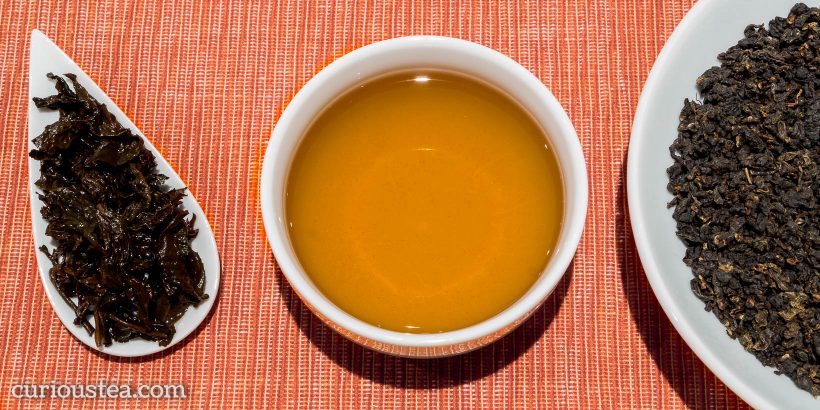 Four Seasons Black Pearl (四季春黑珠红茶) is a light and fruity black tea from Mingjian Township in Nantou County of Taiwan. Made from a cultivar normally used for making a light and floral Four Seasons Oolong, this tea is following the modern trend for development of new and exciting black teas in Taiwan. It was grown and plucked from the same plants that are used to make our own Four Seasons Oolong in winter 2016. This tea has been allowed to mellow for about 6 months prior to making it available to our subscribers to better balance and smooth the flavours.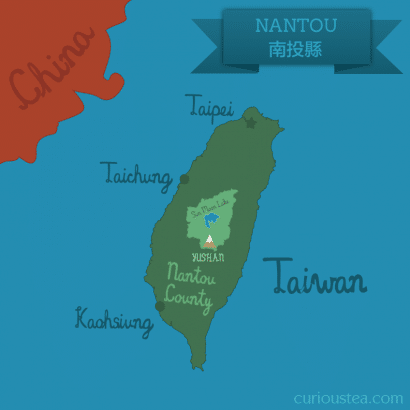 This tea is named after the cultivar that is used to make it, Si Ji Chun (四季春), or Four Seasons Spring, as well as the shape of the finished tea, which resembles small black pearls. The leaves that are plucked from Si Ji Chun plants have a fresh and light flowery 'spring-like' aroma year round, hence it is referred to as Four Seasons Spring. This floral cultivar has become very popular in Taiwan, where it first appeared in the 1980's. Recently it has also been extensively planted in other countries, such as Thailand and Vietnam. It favours low altitude conditions, produces a flavoursome tea and is rather hardy and easy growing while providing farmers with a consistent crop throughout the whole year. It is easy to see why this cultivar is popular with the farmers!
This Four Seasons Black Pearl has tightly rolled dark leaves that unfurl when brewed. It is very light for a black tea, almost possible to consider it being a highly oxidised oolong; definitely a tea that walks the line between an oolong and a black tea! It has no bitterness, astringency or dryness. The character is very smooth and quite light, with slightly thin crisp flavours. There are floral notes, notes of fruits such as raisins and plums and just a vapour-like hint of eucalyptus and wild honey. The finish is clean and pleasant with a tart fruity taste.
We suggest brewing at 90°C for 3-5 minutes according to your taste. It can be brewed around 3 times depending on your preference.
You can also buy Four Seasons Black Pearl black tea in our online shop.
Dian Hong Da Li Cha
Dian Hong Da Li Cha (滇紅大理茶) is a very unusual black tea grown in Yang Ta village located in Jinggu Dai and Yi Autonomous County in Pu'er, Yunnan Province. This tea is not made from the usual Camellia sinensis but rather from a different wild strain of Camellia, Camellia taliensis. Grown at a plantation of 40-60 year old trees at an altitude of around 1,700m, it was harvested in spring 2017.
The name for this tea comes from two Chinese parts. Dian Hong (滇紅), literally 'Yunnan Red' refers to the type of black tea from Yunnan Province that is very popular and renowned for smooth, malty and sweet flavours. In this case the colour red follows the Chinese classification where teas that are referred to as 'black' in the West are called 'red' in China. The second part of the name, Da Li Cha (大理茶), literally tea of Dali is one of the common names that is used in Yunnan for Camellia taliensis tea plants. The name most likely originates from the county-level Dali city located in Dali Bai Autonomous Prefecture.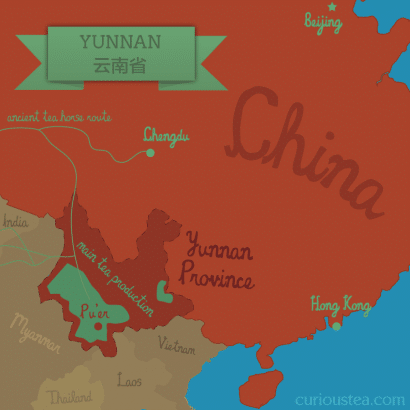 This Dian Hong Da Li Cha black tea has striking long golden leaves with a matte black underside. The dry leaves have a strong and appealing sweet and malty aroma. The amber liquor also has a satisfying sweet, floral and malty aroma. The taste is very smooth, this tea exhibits no astringency or bitterness. There are wonderful malty and sweet fruity notes with a long lasting floral aftertaste. Overall this tea produces a lovely cup that is subtly different to the usual black tea selection from Yunnan – truly captivating and intriguing for any tea drinker!
We suggest brewing at 90°C for 3-4 minutes according to your taste. It can be brewed around 3 times depending on your taste preferences.
You can also buy Dian Hong Da Li Cha black tea in our online shop.
We really hope that you enjoy the tea club selection for August and are looking forward to our picks for September!
If reading this has piqued your interest, but you don't yet subscribe to our monthly tea selections and would like to receive them in the future, you can set up your tea subscription in just a few clicks. We ship worldwide from London, UK.
We always love to hear from you, so if you have any questions, suggestions or just want to chat about tea, email us at contact@curioustea.com, via our Facebook page or via Twitter.
You can also follow us on Instagram for pretty tea photos.
Happy tea discoveries!