It's time for another month of Curious Tea subscriptions! We have an intriguing selection for August for you to try. We have selected the following four teas for you this month: a Chinese tea straddling the divide between white and green, Xue Long Snow Dragon; some rather large Raw Pu-erh Pearls from Yongde, Yunnan; followed by one of our customers' favourites – a Dian Hong black tea – this time shaped into small golden coils, Jin Luo Golden Snail; and finally to finish the line up for this month, a fabulous First Flush 2016 Darjeeling from Phoobsering Tea Estate.
Our new Discovery tea taster subscription boxes contain 10g taster pouches of all of the above teas. Don't forget that all subscribers now benefit from a 10% discount on all teas from our tea shop!
To help you along with the tasting, here is some further information on all teas featured in our August boxes.
Xue Long Snow Dragon
Xue Long (雪龍) Snow Dragon is an intriguing tea that straddles the line between white and green types of tea with a balanced flavour that has the best of both worlds. It is grown at an altitude of 800-900m at a fully organic tea garden in Fuding, Fujian Province and we source it directly from the producer. This hand plucked and processed Xue Long Snow Dragon green tea is from Spring (April) 2016 harvest.
Xue Long Snow Dragon is made from a white tea cultivar Fuding Da Hao (福鼎大毫 – Fuding Big Sprout) but is processed like a green tea. This dual heritage is reflected in the name of this tea. Xue (雪), meaning Snow, refers to the white hairs on the tea leaves, similar to Xue Ya Snow Bud White Tea. Long (龍), meaning Dragon, refers to the green tea aspect of processing and inadvertently references the famous Dragon Well Long Jing Green Tea.
We chose this Xue Long Snow Dragon green tea for our August subscription boxes. Hand plucked and processed in April 2016, this tea is exceptionally fresh. The twisted dry green and silver leaves have a faint fruity aroma and do not make it evident at the outset that this tea is made from leaf buds. This becomes clear once you steep the leaves and the beautiful buds fully unfurl.
The brewed liquor is very light and has a pale gold champagne-like colour with a light aroma. The taste is supremely balanced, truly taking the best of white and green tea characters. The flavours are light but more pronounced when compared to a white tea. At the same time, it does not exhibit any strong common green tea characteristics, so there are no overbearing vegetal or grassy flavours or any pronounced astringency. This is a perfect green tea to try if you are finding other green teas too 'green' tasting or astringent.
The predominant characteristics of this tea revolve around bright yet mellow flavours. The taste is brisk and sweet with sparkly notes of white grapes and peaches. A very refreshing tea that would make an excellent cold brew in the hot summer months!
We suggest brewing parameters of 80°C for 2-3 minutes according to your taste, brewing 3 or more times. You can also experiment with lower temperature and longer brewing time to bring out more sweetness from this tea. Also try brewing it cold by putting 10g into 1l of water and leaving it in a fridge overnight.
You can buy Xue Long Snow Dragon green tea in our online shop.
Yongde Raw Pu-erh Pearls
The second light tea to feature this month is a Raw Pu-erh from Yunnan – Yongde Raw Pu-erh Pearls (永德普洱生龙珠). We have previously only featured ripe (shu) pu-erhs so this is the first time we decided to include a raw (sheng) pu-erh into our tea subscription boxes. This tea comes from Da Xue Shan (Big Snow Mountains) in Yongde County, Lincang Prefecture, Yunnan Province, China. The large wild tea trees that the leaves for this pu-erh are plucked from are found around Da Xue Shan National Reserve, at an altitude of over 2,200m. The pearls all weight around 10g each so you can use one pearl for a large tea pot if you are brewing Western style.
Pu-erh is a type of tea which has undergone unique processing distinct from black tea, and is also referred to as 'dark' tea in the West. Many varieties of pu-erh are produced and it is a particular speciality of Yunnan Province. The name Pu-erh comes from Pu'er, which was an important place for tea trading in ancient China.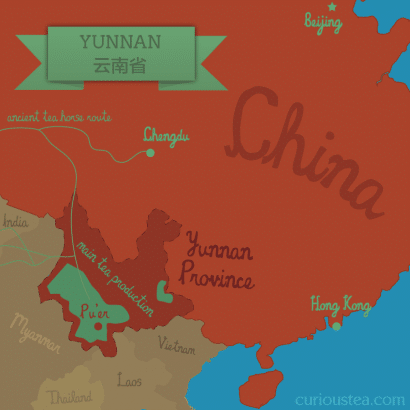 Pu-erh tea undergoes a unique production process, during which the tea leaves are dried and rolled after which they undergo secondary microbial fermentation and oxidation. This unique processing sets it apart from black tea and means that pu-erh fits within the separate dark teas category. The tea is most commonly pressed into various shapes (domes, disks, bricks, etc) or can be left loose and the gradual fermentation and maturation process continues further during storage. These Yongde Raw Pu-erh Pearls have been pressed into small round shapes, which are like large pearls. As this is a raw (sheng) pu-erh, the ageing process has been happening slowly and naturally since spring 2013. These types of teas improve with age if they are stored properly, however this tea is perfectly drinkable now and makes a very nice drink indeed!
These Yongde Raw Pu-erh Pearls have been selected by us for our August Curious Tea subscription boxes. The tea has been shaped into pearls, then wrapped in foil for storage. When you remove the foil wrapping, you can see rather large very densely compressed leaves with silvery tips. Each pearl produces a medium strength liquor that is satisfying and balanced – a little sweet with a slightly savoury finish. The flavours of this tea are fresh forest-like, with a woody character and notes of apricots and fruits. Each infusion changes the flavours, so make sure to experiment by brewing this tea many times!
This tea is best brewed with water at 90°C for 3-5 minutes multiple times. Alternatively, and to get the best out of Yongde Raw Pu-erh Pearls tea, use a yixing tea pot, gaiwan or infuser cup measuring around 250ml. Using a whole pearl, start with a 40s infusion that is to be discarded. Follow by 2-4 infusions at 30s each as the pearl starts to break down. When the pearl is more separated into loose leaves in the brewing vessel, decrease the brewing time to 15-20s per infusion. When you notice the flavour on subsequent infusions diminish, you can start to increase the brewing time. As you taste the tea, you can adjust the infusion time based on your taste preference and the tea ware that you are using. This way you can brew this tea multiple times and easily get over 15 infusions from one pearl.
You can buy Yongde Raw Pu-erh Pearls tea in our online shop.
Dian Hong Jin Luo Golden Snail
Dian Hong Jin Luo (滇红金螺) Golden Snail is another excellent Dian Hong (Yunnan Red) that we would like to introduce to our subscribers in our August subscription tea boxes. Dian Hong, literally Yunnan Red, refers to the origin and type of tea (red according to Chinese tea classification). Jin Luo, literally Golden Snail, refers to the style of this tea and the way it is shaped into small coils, similarly to the famous Bi Luo Chun (Green Snail Spring) green tea.
This tea comes from Ning'er Hani and Yi Autonomous County, within the Pu'er Prefecture and next to city of Pu'er in Yunnan Province. Ning'er Country has a large population of Hani and Yi native people, who also inhabit areas in Vietnam, Laos and Thailand. While tea making traditions go back hundreds of years (it is estimated that tea cultivation started 2,000-2,200 years ago in this area and tea use predates that period), black tea production is a relatively new phenomenon in this part of China. The first black teas were produced in Feng Qing County around 1938. These proved quite popular so the production of black tea quickly spread throughout Yunnan Province. The rise in popularity was largely attributed to the balanced and smooth flavours of Yunnan Red – fully bodied sweet maltiness without any of the astringency of many other black teas.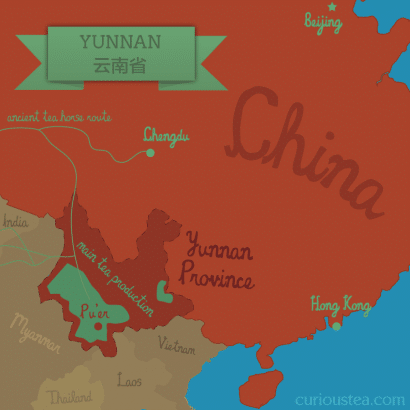 Dian Hong Jin Luo Golden Snail is processed from hand plucked one leaf and one bud leaves of the Yunnan Large Leaf cultivar that is also used to make the numerous pu-erhs of the region. The leaves are hand rolled during the production process into small coils or snails and you can see plenty of these golden coils in the finished product. Like other Dian Hong teas, this Jin Luo Golden Snail can benefit from short term storage and maturation to further develop the flavours. Or you can enjoy it straight away!
We selected this Dian Hong Jin Luo Golden Snail black tea for our August Curious Tea subscription boxes. The tea was plucked and processed in spring 2016 (late March). The dry leaves are shaped into small coils, or snails, and have plenty of bright gold and black colours. When brewed, these coils will unfurl, revealing the one bud and one leaf structure. The umber liquor produces a medium strength liquor with a somewhat savoury light scent reminiscent of rye bread and soy. The flavour of this tea is sweet and malty, very much like a freshly baked sweet bread, with notes of cocoa and molasses.
A perfect black tea to have without milk as it's very smooth and does not have any astringency. Of course, it can always be brewed stronger by steeping the leaves for 5+ minutes to make a particularly strong tea that could take a dash of milk if you are so inclined.
Dian Hong Jin Luo Golden Snail black tea is best brewed at 90°C for 3-4 minutes according to your taste. It can also stand multiple infusions well.
You can buy Dian Hong Jin Luo Golden Snail black tea in our online shop.
Darjeeling Phoobsering First Flush 2016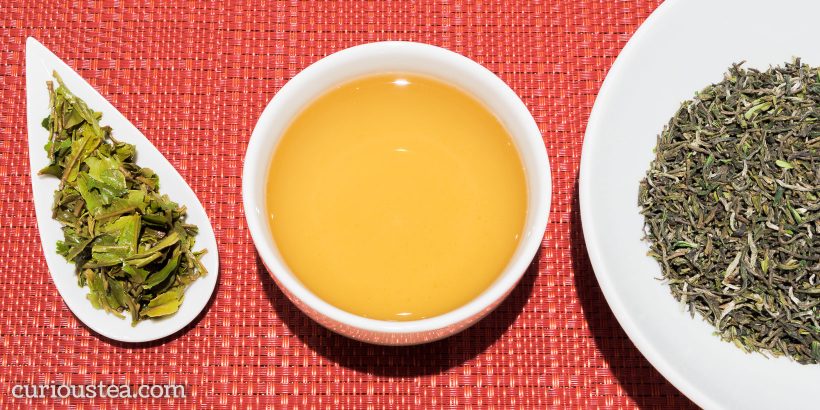 Finally we have another excellent Darjeeling First Flush from the 2016 spring crop, this time from a new tea estate for us – Phoobsering Tea Estate. Darjeeling Phoobsering First Flush 2016 is a high grade (FTGFOP1) tea that delivers all the best traits that First Flush Darjeelings are famous for in a most elegant and balanced manner.
Phoobsering Tea Estate is one of the oldest plantations in the West Valley of Darjeeling District, right next to the town of Darjeeling. Interestingly, and somewhat unusually, the tea estate is named after a local person, the first supervisor of the estate called Phoob Tshering. There is no explanation why the tea estate was named after a local and it presents an intriguing mystery. The tea garden is located at an elevation of between 1,000 and 1,800m and produces some world-renowned first flush teas.
We selected this Darjeeling Phoobsering First Flush, plucked in spring 2016, for our August tea subscription boxes. It has neat small leaves with muted dark green colours as well as silver tips. Once brewed, this tea produces a bright golden liquor with a pronounced first flush champagne-like character. These characteristics are most welcome in this Darjeeling Phoobsering First Flush 2016, making it a very fine and balanced tea. The mouthwatering flavour profile is mineral and chalky, with sweet muscatel and floral notes. Unlike some other muscatel First Flush Darjeelings, this tea presents a more balanced profile for your palate. The competing flavours work in unison with no single flavour outshining any others.
Darjeeling Phoobsering First Flush 2016 black tea is best brewed at 90°C for 3-5 minutes according to your taste. It can also stand at least one more infusion. Best taken without milk to fully enjoy the first flush character and complexity of flavours of this fine tea.
You can buy Darjeeling Phoobsering First Flush 2016 black tea in our online shop.
We really hope that you enjoy the tea club selection for August and are looking forward to what we have in store for your selections in September!
If reading this has piqued your interest, but you don't yet subscribe to our monthly tea selections and would like to receive them in the future, you can set up your tea subscription in just a few clicks. We ship worldwide from London, UK.
We always love to hear from you, so if you have any questions, suggestions or just want to chat about tea, email us at contact@curioustea.com, via our Facebook page or via Twitter.
You can also follow us on Instagram for pretty tea photos.
Happy tea tasting!