Welcome to the April 2020 edition of the Curious Tea subscription! Here's a closer look at the four exciting new teas that we are sharing with our subscribers this month.
The first light tea this month is an unusually dark-looking heavily roasted green tea from Japan that consists solely of tea leaf stems.
The second light tea is an exquisite Taiwanese Qing Xin Oolong from the renowned terroir of Shan Lin Xi.
For the dark side of the selection we have an exceptionally crafted First Flush Darjeeling from Giddapahar Tea Estate.
Finally, the last tea we are featuring this month is a Tibetan Zang Cha, a dark tea from Sichuan in China that comes compressed in mini cakes.
Our Discovery subscription boxes contain 10g taster pouches of all of the above mentioned teas. If you are a subscriber you will benefit from a 10% discount on all teas from our tea shop!
Let's get into further detail on the products featured in our April tea subscription boxes.
Kirishima Hojicha Kukicha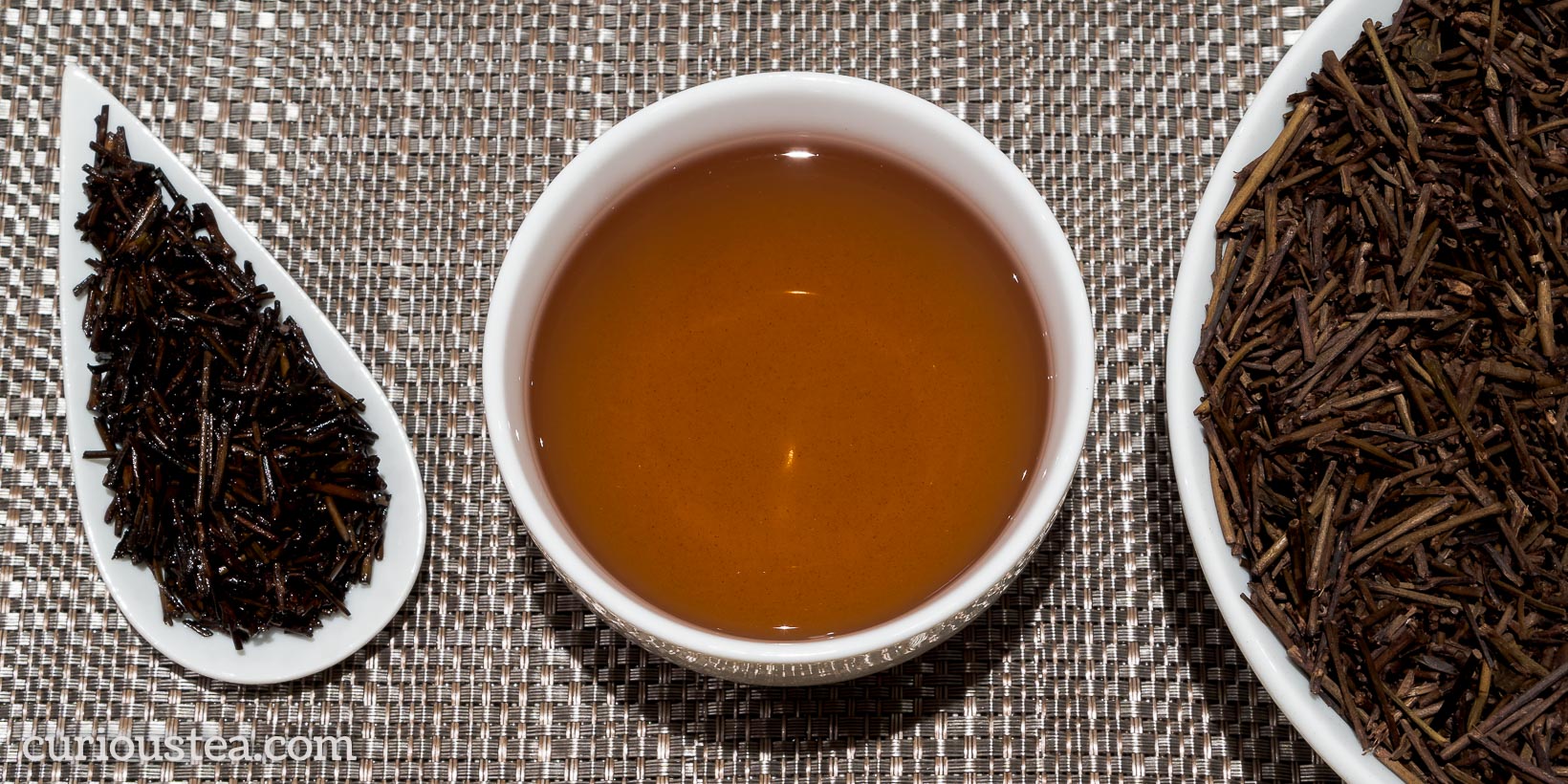 Kirishima Hōjicha Kukicha (霧島ほうじ茎茶) is a beautifully roasted organic green tea that consists almost purely of tea leaf stems. Expertly roasted, it produces a warming and highly satisfying liquor with a pleasantly roasted taste. Naturally low in caffeine, this is a perfect relaxation drink that is great in the evening or for those more susceptible to high caffeine content. This production is from tea leaf stems of mostly Yabukita cultivars plants that are sourced from a number of certified organic tea plantations located in Kirishima, Kagoshima Prefecture. We source this tea via a tea merchant specialising in rare Japanese teas and it is from early summer 2019 harvest.
This Kirishima Hōjicha Kukicha is a traditionally roasted green tea. Hōjicha (ほうじ茎), often also spelled Houjicha, was first produced in Kyoto in the 1920's. The tea follows normal green tea processing but at the final stages it is exposed to high temperature, followed by a quick cooling phase. This imparts a characteristic roasted profile, at the same time lowering caffeine and catechin content. As catechin is responsible for astringency in tea, this results in a much mellower, non-astringent flavour that is hugely appealing.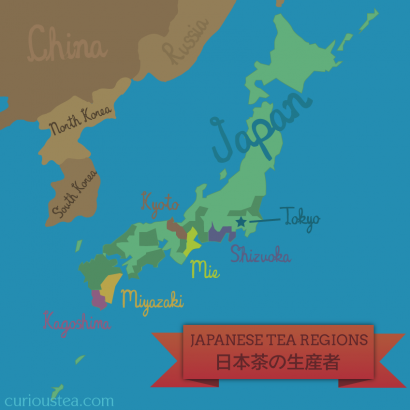 Also this tea is a Kukicha (茎茶) tea. Unlike our award-winning Makinohara Kukicha, this Hōjicha Kukicha consists almost solely of stems that are extensively roasted. Kukicha has a much sweeter and less astringent flavour due to different chemical compounds found in the stems of the leaves. During production of sencha and other Japanese green teas, stems are separated and removed from the tea leaves. So as not to waste the stems (which make a great tea anyway!), the makers produce various type of kukicha. Some would be then still a mixture of sencha leaves and stems, while others would be almost exclusively left as 'twig tea'. This 'twig tea', as it is sometimes known, is also known by other names, such as karigane (雁が音) or shiraore (白折) if made from stems of gyokuro production.
When visiting Kanazawa in Japan a couple of years ago, we got the chance to try another special tea, called Kaga bōcha (加賀棒茶). In this case bōcha (boucha) is another name for stem tea that is used in certain regions of Japan. Kaga bōcha is local to the area surrounding Kaga City, Ishikawa Prefecture – about 45 minutes away from Kanazawa. We were really taken aback by the smooth roasted and sweet flavours of this local speciality. Our version from Kirishima is really rather similar, although perhaps a bit more roasted, to the Kaga bōcha we tried. So we were extremely excited when we found this unusual roasted twig tea for our shop!
This Kirishima Hōjicha Kukicha organic green tea consists of dark roasted stems that produce an amber liquor with a comforting toasty aroma. The taste is light, mellow and creamy-smooth. The flavours are subtle but are dominated by the overall roasted, warming character. The roasting is definitely on the heavier side but this leads to a non-astringent taste that has no vegetal dryness or grassiness. The combination of roasting (resulting in lower caffeine and astringency) and usage of stems (naturally sweeter and lower astringency) makes this for a very easy-to-drink cup with plenty of sweetness running through the taste. The clean roasted flavours carry through the tasting to develop into fruity, cereal and lightly mineral notes. This tea has a good sweet base and tangier top notes that gives it a mouth watering quality.
It is best brewed at 80°C for around 3-4 minutes, with multiple infusions.
You can also buy Kirishima Hōjicha Kukicha green tea in our online shop.
Shan Lin Xi Qing Xin Oolong
Shan Lin Xi Qing Xin Oolong (杉林溪青心烏龍) is a beautifully floral high mountain Oolong from the famous Shan Lin Xi (Sun Link Sea) tea growing area located in Nantou County of Taiwan. This spectacular oolong is made from hand-picked leaves of Qing Xin 'Green Heart' (青心) cultivar plants that are grown at an altitude of 1,200-1,300 metres. This tea is grown by Mr Chen and was picked and carefully processed in April 2019. We source it from Mr Chen via our Tea Master in Taiwan.
Shan Lin Xi (杉林溪) is an exceptional terroir located high in the mountains of Nantou Province. Although Alishan as a terroir may be more famous, it is without doubt that Shan Lin Xi produces high mountain (Gao Shan) oolong teas that are also considered to amongst the best from Taiwan. Shan Lin Xi can be literally translated as Pine Forest Stream from Chinese. However it is also commonly known as Sun Link Sea, an English phonetic approximation of the Chinese Shan Lin Xi, a process referred to as phono-semantic matching in linguistics. So both Sun Link Sea Oolong and Shan Lin Xi Oolong refer to teas from the same terroir. The gardens of Sun Link Sea terroir range in altitude between approximately 1,000 and 2,000 metres. The picturesque mountainous landscape is also home to Shanlinxi Forest Recreation Area, a popular destination for nature hiking that is known for its giant forest trees and waterfalls.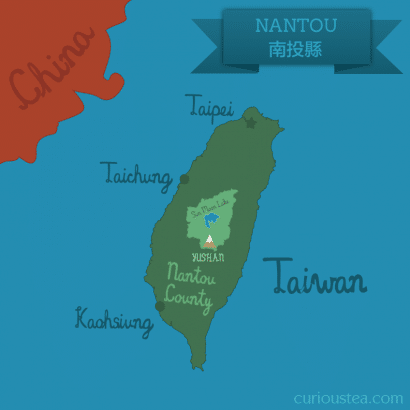 The vast majority of oolong teas grown at high altitude in Taiwan are made from the Qing Xin 'Green Heart' (青心) cultivar plants. This is true of most Sun Link Sea oolong teas as well. This particular Shan Lin Xi Qing Xin Oolong is also made from hand-picked leaves of Green Heart cultivar plants. They are picked in mid-April, and come in classic tightly rolled leaf shape. The oxidation level is approximately 15-20% and this tea does not undergo any baking. This results in a beautiful floral aroma and character that Taiwanese high mountain oolong teas are famous for.
If you are interested in comparing the different terroirs, we also feature other classic high mountain oolong teas made from the Qing Xin cultivar in our shop: Alishan Green Heart, Gao Shan Qing Xin from Meishan and Shan Lin Xi Long Feng Xia Oolong (Long Feng Xia is a renowned tea growing area that is part of Sun Link Sea).
This Shan Lin Xi Qing Xin Oolong comes in tightly rolled leaves, which are mostly large but also vary in size. The dark green leaves have a wonderfully floral aroma. When brewed they unfurl into large leaves consisting of a tip and the top 1-3 leaves. The produced liquor is clear and bright, with a pale golden colour and a floral and lightly buttery aroma. The very bright and clean flavours are predominantly creamy and floral with a pleasant sweetness running through. The main taste is dominated by notes of alpine meadow flowers; this typical high mountain flavour is what makes these Gao Shan oolong teas so captivating! There are further verdant notes with a buttery and herbaceous undertone that adds pleasant complexity. This tea has a satisfyingly smooth, almost silky mouthfeel. The herbaceous flavours further build up on the lightly lingering aftertaste that is pleasantly floral. This tea is a fantastic example of a classy Sun Link Sea oolong displaying the best bright and floral characteristics.
We suggest brewing Shan Lin Xi Qing Xin Oolong at 90°C for 3-4 minutes according to your taste. It can be brewed 3+ times depending on your taste preferences. To get the most out this tea, consider using a gaiwan or a traditional clay pot to benefit from the complexity of flavours from repeated multiple infusions. For gong fu brewing we suggest using 6g per 100ml at 95c. Optional 2-3 second rinse, 1st infusion 25s, add 5s to each further infusion. Gong fu style brewing should get many, many infusions from this lovely tea!
You can also buy Shan Lin Xi Qing Xin Oolong tea in our online shop.
Darjeeling Giddapahar First Flush 2019
Darjeeling Giddapahar First Flush 2019 is an exquisite First Flush Darjeeling from Giddapahar Tea Estate. Situated on steep slopes of Kurseong Valley in Darjeeling, this Estate is world-famous for its classic Darjeeling teas. This First Flush has well-sorted neat tippy leaves that produce a complex taste that is verdant and mineral with characteristic caramel notes of molasses. This First Flush is a spring 2019 harvest and was sourced by us via a specialist wholesaler that deals direct with the Estate.
Giddapahar Tea Estate is a relatively small tea garden when compared to other major Darjeeling estates. It is situated on the steep slopes surrounding Kurseong Valley in the Himalayan foothills, not far from Kurseong town. Located at an altitude of between 1,300 and 1,600 metres, the garden is mostly planted with century old China bushes. Although the Estate also grows some AV2 plants, the majority of production is still from the older China bushes. Since 1881 the Estate has been in the same family for 4 generations, and the production is steeped in tradition and expertise that has passed down the generations. Teas from Giddapahar are highly sought after around the world as being some of the best and most refined Darjeeling teas. The expert and considered processing of the fine leaves lead to teas of captivating character and a trademark Giddapahar flavour note that resembles caramel.
Like in all of Darjeeling, the First Flush is a particularly prized picking. The tea trees undergo hibernation for about 4 months during the period of December to March. As spring approaches, the trees start to slowly produce very fine new growth. These new spring leaves that are carefully picked by hand usually consist of one bud plus one or two leaves. These are sorted and processed using minimal machinery to retain the fine quality of the leaf. First Flush Darjeeling teas tend to undergo lower oxidation of the leaves to preserve the fine floral aromatics and muscatel flavours that they are famous for.
Darjeeling Giddapahar First Flush has neat tippy leaves that have a lovely mineral and floral aroma. The leaf is very neat, tippy and has an attractive mixed coloration indicating the medium level of oxidation. The brewed liquor has an attractive golden orange colour and a lovely floral fragrance. The taste has a strong floral character with herbaceous, verdant notes. There is definite muscatel notes that have an edge of caramel, molasses and burn sugar that Giddapahar teas are famous for. The pleasantly lasting aftertaste has a good degree of floral dryness that gives way to a brighter mineral note. This quality makes this tea idea for an afternoon tea treat, ideal on its own or paired with slightly sweet things.
It is best brewed at 90°C for 3-4 minutes and can be brewed 2+ times.
You can also buy Darjeeling Giddapahar First Flush 2019 black tea in our online shop.
Tibetan Tea Xiao Bing Zang Cha
Tibetan Tea Xiao Bing Zang Cha (雅安小饼藏茶) is a traditional dark tea from Ya'an in Sichuan Province of China. This region has a long history of producing compressed tea that has for generations been a traditional health tonic, drunk as butter tea. It has also been traded and used as currency. Often Tibetan tea comes pressed into bricks (we sell a 250g brick version as well) but these come in convenient small cakes that are around 7-9g in weight. Our 10g sample packs have one cake per pouch, while full-sized 50g packs on average of 7 cakes. This tea has a smooth and warming flavour with a satisfying and warming character. The current batch is from 2017.
Tibetan Tea is known as Zang Cha or Cang Cha in Chinese (藏茶) and it is a type of dark tea. In Chinese, dark tea is called hei cha (黑茶), which literally translates as black tea; this refers to the various post-fermented teas that encompass Pu-erh, Liu Bao, Fu Zhuan, etc. Confusingly, what is called in the West as black tea in Chinese is called hong cha (红茶), literally translating as red tea. We follow the usual and most commonly accepted nomenclature in English by referring to hong cha as black tea and to hei cha as dark tea. When we are talking about specific dark teas, we follow the provenance, so dark tea from Yunnan is Pu-erh, from Hunan – Fu Zhuan, from Guangxi – Liu Bao and from Sichuan – Zang Cha.
This ancient form of fermented tea from Tibet has been an essential drink that provided energy and nutrients to people living at high altitude and in harsh conditions. This tea would be traditionally drunk as butter tea that is made by boiling tea leaves with yak butter and salt. It is certainly possible to recreate this drink with cow butter if anyone is feeling particularly adventurous! It is perceived that this tea has particular health attributes for energising and cleansing the body and mind while also having a warming quality. Not only was this tea revered for its nutrients and health benefits, it was also used as currency throughout Asia.
This Tibetan Tea Xiao Bing Zang Cha is produced in the mountainous region next to Ya'an in Sichuan Province. This beautiful region lies just below the Tibetan Plateau and, at various times in history, was part of Tibet or closely associated with it. Many of the local people here still identify themselves as being Tibetan. Ya'an city itself has been a historic gateway to Tibet and a major trading hub; a melting pot of cultures and peoples.
Generally, Zang Cha tends to consist of compressed fermented leaves and stalks. It is easy to see in the brewed leaves that there are plenty of smaller leaves as well as coarse leaves and stalks present. The small cakes are more densely pressed when compared to our 250g brick version, meaning the fermentation process here is slower. This tea is ready to drink straight away or can even be left to age further. Each mini cake is shape like a small puck and weighs between 7 and 9 grams. These are very convenient for single pot or gaiwan brewing. The brewed liquor is a deep dark amber colour with a light woody aroma. The flavours are smooth and warming with notes of stewed fruits and a woody base note. It features milky, creamy smoothness with lingering spicy, walnut and burnt sugar notes at the back of the palate. On the aftertaste, it leaves an impression of similarity to good barrel aged rum!
We suggest brewing parameters of 95-98°C for 3-5 minutes according to your taste, brewing multiple times. This tea is forgiving when it comes to brewing so can brewed for longer or with boiling water for a fuller taste. First infusions should be longer to allow the leaves to loosen in the pot. When brewed Gong Fu style we suggest briefly washing the leaves.
You can also buy Tibetan Tea Xiao Bing Zang Cha dark tea in our online shop.
We really do hope that you enjoy the tea selection for April and are looking forward to the selection in our next box. Our May box will feature a Japanese Gyokuro shaded green tea from the famous Yame terroir, a light and floral Mao Xie Hairy Crab Oolong from Fujian, a classic Orange Pekoe from Hidellana in Sri Lanka and finally a unique Sakura Smoked Japanese black tea!
If reading this has made you curious about our teas, but you don't yet subscribe to a monthly tea selection, you can sign up for our tea boxes in just a few clicks. We ship worldwide from London, UK.
We always love to hear from you, so if you have any questions, suggestions or just want to chat about tea, email us at contact@curioustea.com, via our Facebook page or via Twitter.
You can also follow us on Instagram for pretty tea photos.
Happy tea discoveries!